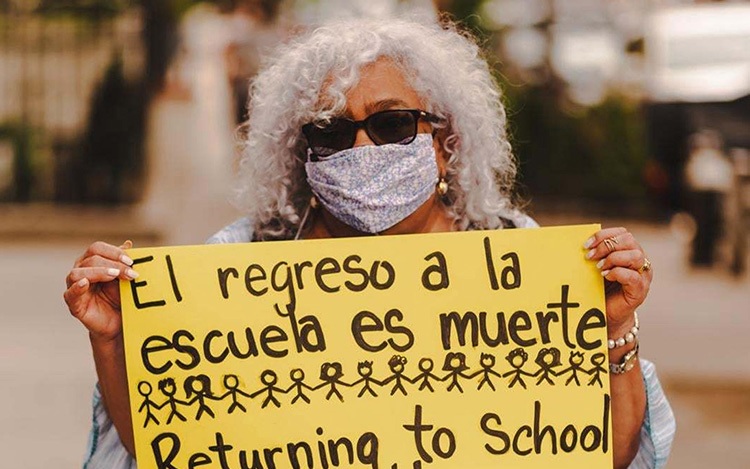 Carmen Rojas
NEW YORK._ The renowned Dominican activist and former candidate for deputy of the Christian Democratic Union Party (UDC), Carmen Rojas, stood in front of a school in Upper Manhattan and warned that "the return of children to class is death."
Rojas, who also chairs the Juan Pablo Duarte School Parents Association, stated that reopening schools especially on the date chosen by Mayor Bill de Blasio is worrying thousands of parents of students in District 6, which encompasses the campuses in Upper Manhattan, including the Inwood neighborhood.
He pointed out that neither the mayor nor the education minister, Richard Carranza, have the appropriate tools to prevent a possibly massive contagion in schools.
The activist's initiative comes at a time when dozens of pediatricians also maintain the warning of establishing functional protocols and most parents proclaim that they will not send their children to classrooms, for fear of contagion.
"Dear parents, in the name of God I beg you not to send your children to school. Neither the mayor nor the chancellor have the tools in their hands to protect the lives of our children, principals (principals), teachers and general staff of the schools since none of them have visited the 1,866 schools that this city has. They don't really know the conditions of our schools, "Rojas said on his social media.
"The pandemic is real. We are meeting in front of the different schools in our community, if someone likes to join us they can do it, send a private message for more information. God is in control, "he added.
He indicated that "they say all that but we don't know that it will be fulfilled. Because if they are going to fire 9000 teachers who I believe, and there is no space to have a class of 10 children per classroom, and there are so many things that they are saying that are not real "..
— Redacción ALMOMENTO.net to almomento.net